RSVP for Argyle Feed's Chick Workshop in 2017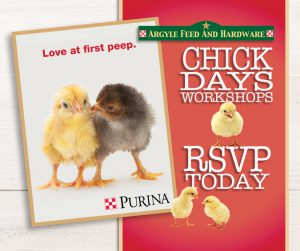 Sign up for Argyle Feed's Chick Workshop on Tuesday, April 4th at 6:00 pm. Dinner included. Each family that RSVP's and attends will receive a FREE Chick.
Come hear Kaylan Herbst talk about the essentials to raising healthy chicks. Preparing for your baby chicks, brooder essentials, and predator control. Our store is stocked with all things chicks including heat lamps, Start & Grow Chick feed, waterers, shavings and more.
Store special includes 10% off anything Chicken related.
Call the store at (940) 241-2444 to reserve your spot or you can register below. Bring the kids, it's a family event at Argyle Feed!