Argyle Feed has fun toys for your little farmers and cowpokes
When your kids unwrap these toys on Christmas morning, we guarantee the "Big Kids" will want to play with them, too! Visit us today at Argyle Feed & Hardware for the best selection of gifts for everyone on your list from horse lovers, hunters and DIYers to gardeners, pets and your kiddos:
Radio Flyer Scoot-About and Tricycles
Radio Flyer's Scoot-About and Tricycles are perfect for any toddler looking to ride in style! The signature red steel frame on the Scoot-About features a "furniture-friendly" front bumper to protect walls and furnishings. Furniture-friendly front bumper with real working steering; wide-set front wheels for extra stability. The easy-adjust seat grows with your child. And, last but not least, the Scoot-About has a real ringing bell and streamers for even more fun! Appropriate for ages 1-3.
Watch your kids ride in style on the Radio Flyer Classic Red Tricycle! This bright red tricycle is classically styled and includes chrome handlebars, fender, and ringing bell. This sturdy trike also features steel construction, durable spoked wheels, a 10″ front wheel and real rubber tires. The controlled turning radius prevents tipping for safe and confident riding. It also has a rear step for easy on and off. The adjustable seat grows with your child. For children aged 2-4.
Plush Rocking Horses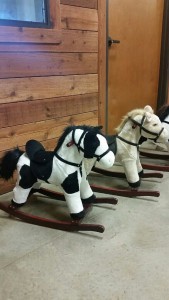 These cute little ponies are just the right size for your little up and coming equestrians! These rocking horses are soft and safe for little riders and provide lots of entertainment with their animated wagging tails and they neigh and whinny, too.
John Deere Gifts
John Deere Gifts offers the coolest toys for kids of all ages. Replica tractors, farm equipment and radio controlled toys look just like the big John Deere rigs grown-ups drive. Watch the faces light up. Even the grown-ups!
These are just a few of the many great favorite Holiday gift-giving ideas you'll discover at Argyle Feed…we also carry Case and Gerber knives, garden decor and flags, DeWalt Tools, Lodge Cookware, Traeger Grills and more. And, of course, if you really just can't decide on the right gift, we have Argyle Feed gift cards, too! You just never know what you may find at your favorite feed store in Denton County!