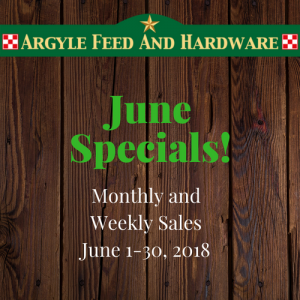 Get ready this summer for Argyle Feed Store's June Specials and Promotions. You'll save on a variety of items like Canidae Dog Food, Horse Fly Sprays, and Traeger Pellets. Check out the monthly and weekly specials below by clicking the links.
Save $1 Off Quart and $2 Off Gallon Fly Spray for Horses- Valid June 17th to June 27th
Save $2 Off Traeger Pellets- Valid from June 24th to June 30th
Save $10 Off Big Bags & $4 Off Small Bags of Canidae Dog Food – Valid June 4th to June 16th
Make sure you like and follow us on our Facebook page as we will provide you updates on each weekly special.
Tags: june promotions, june sales, june specials