Purina Noble Goat Feed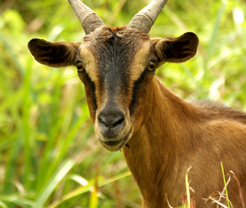 Argyle Feed Store has a huge selection of Noble Goat feeds and supplements from Purina. We have a supplement for whatever your goat could need including basic mineral supplements, different level of protein supplements, high fiber feeds, and a number of other feeds for your goat. Each of these Noble Goat feeds is designed to get your goat the best nutrients that they need and each feed is slightly different in what they offer so that you can be sure to get a specialized feed that works for your goat. Whether you are looking for a basic mineral supplement for the whole herd, a high fiber supplement for lactating goats, or protein feeds for dairy goats, Argyle Feed Store has the feed you need. If you are interested in these great goat feeds that we offer, then please click here to view our full detailed selection.
Here at Argyle Feed Store, we are committed to making sure you find exactly what you are looking for. If you have any questions about the Noble Goat Feeds that we offer, then please click here to visit our contact page.  We will be more than happy to answer any questions you may have.
Products
Manufacturers