Purina SuperSport Supplement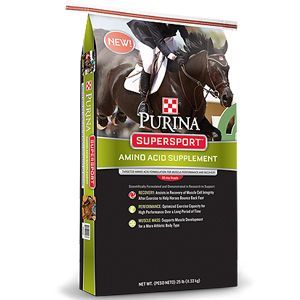 Argyle Feed Store is proud to provide a number of great supplements and feeds for horses in our store. Purina SuperSport Amino Acid Supplements are a great way to promote the recovery time, performance, and overall muscle mass of your horse. This supplement has been specially designed for top equine athletes and high performance horses. Amino acids are very important to the muscle health of your horse, because they allow your horse to get the protein it needs. This feed comes in a pelleted form so it is easy to give to horses. If you are interested in learning more about this great Purina product, then please click here to view the complete nutritional profile.
Here at Argyle Feed Store, we are committed to making sure you find exactly what you are looking for. If you have any questions about Purina SuperSport Supplements, then please click here to visit our contact page. We will be more than happy to answer any questions you may have.
Products
Manufacturers