Thrive Horse Feed Dealer in Denton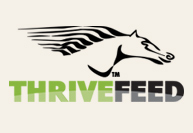 Argyle Feed and Hardware is proud to provide a great selection of Thrive Horse feed to our customers in Denton county. Thrive Horse Feed is one of the best horse feeds on the market, and they operate on the assumption that a healthy horse diet should not require supplements. Thrive Horse Feed is designed for performance. If you have horses that participate in races, trail riding, training, or rescue, in the Denton county area, then you have got to check out these great feeds. Thrive Horse Feed has a proven track record and its high quality nutrition will help keep your horse calm, focused, and healthy. If you have active horses in the Denton area, then come by and see us to talk about the impact that Thrive Horse Feed can have for your horse. We will be happy to help you find the best product for you and your horse.
Here at Argyle Feed and Hardware, we are committed to making sure you find exactly what you are looking for. If you have any questions about Thrive Horse Feed and the other products that we offer, then please click here to visit our contact page. We will be more than happy to answer any questions you may have.
Products
Manufacturers