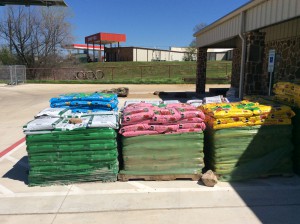 Argyle Feed & Hardware is Denton County's destination for all your landscape and gardening projects!  We're not only a farm and ranch feed store— find the right professional tools here for your outdoor projects as well as everything else you need to get your lawn and garden ready for Spring, including organic and conventional fertilizers, top soils and mulches.
Visit our new garden center for a wide variety of fertilizers, pest repellents and herbicides as well as flowers, plants and seeds. The difference between shopping with Argyle Feed and the big box stores is clear: personalized, knowledgable and friendly customer service. Our team's experience goes beyond the training manual— the staff at Argyle Feed knows our products because they use our products.  Providing this expertise goes a long way when you are investing in all of your farm, ranch and home improvements.
At Argyle Feed and Hardware, our commitment is helping you find exactly what you need to complete all of your lawn and garden projects. Come in and see us— we're always happy to answer all of your questions!