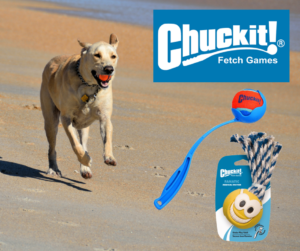 Save 15% Off on all Chuck It Dog Toys at Argyle Feed Store from May 22nd to May 31st! Summer is here and it's time to play catch with your dogs. Come down to Argyle's and check out our large selection of dog toys from Chuck It. Your dog will love you for it.
Chuck It is a UK company that has been making dog toys since the late 1990's. Their most popular toy is the ball launcher which they are known for but they have a wide variety of dog toys to choose from. They have boomerangs, glow in the dark toys, tug toys, hydro toys that hold and release water easily. Whatever type your dog prefers, Chuck It has what they want.
Playing catch is a great way to exercise your dog, not to mention you are also reaping the healthy benefits. Start a healthy routine with your dog and puppy and get out there and play catch.
Practice catch before our Splash Dogs event on June 8-10 and get your dog ready for competition.
Check out Argyle's pet center today, and get your pets Chuck It Dog Toys!