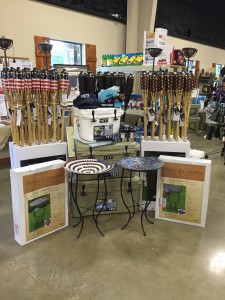 Argyle Feed & Hardware has everything you need to get your patio or deck ready for outdoor entertaining! We have a great selection of the very popular YETI coolers, Tiki torch products and, of course, we carry Traeger Pellet Grills. We just received new garden decor, too… yard art and unique glass birdbaths as well as a variety of feeders and birdhouses too. Argyle Feed stocks a wide variety of wild bird seed products to attract the birds for your backyard enjoyment. And, our gardening area is always stocked with new plant arrivals for sprucing up your garden beds and containers.
Finally, don't let the mosquitoes crash your patio party! Argyle Feed has a variety of mosquito repellent products to protect your outdoor living space— Skeeter Screen granules, Patio Eggs and Candles, Mosquito Dunks for standing water as well as Tiki brand products, too.
One-stop shopping at Argyle Feed & Hardware will complete your To Do list for summer entertaining— come see us today!