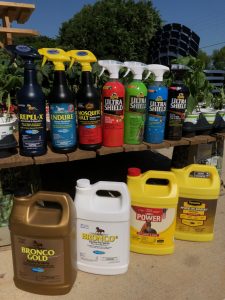 Don't let horse flies take a bite out of your horses. Protect your horses with fly spray on sale at Argyle Feed Store.
The fly sprays available include:
Pyranha Wipe N' Spray – A popular choice among horse owners. Protect your horse with just 2 ounces per head, it leaves your horse with a very shiny coat.
Endure Sweat-Resistant – Fly proof your horses with Endure. Made with a formula that works in wet conditions like rain and sweat, it protects your horse from all the bug biting insects and flies.
Bronco Gold– Guards your horse against pesky flies while giving him a healthy shine. Kills and repels six fly species, mosquitoes, and gnats. Also doubles as a grooming aid and coat conditioner.
Power – Made with Pyranha technology, this spray kills mosquitos, deer flies, and horse flies. It has a citronella scent and water-based.
Repel-X – With just 8 oz. of product you can coat one horse depending on the size of the animal.
Ultra Shield – Kills and repels more than 70 species of biting and nuisance flies, mosquitoes, ticks, and gnats. Designed for the most challenging conditions. Contains multiple sunscreens and coat conditioners, including aloe and lanolin.
Mosquito Halt – Stops mosquitoes in their tracks and repels them before they can bite. True to its name, Mosquito Halt® spray provides quick knockdown, killing, and repellency of mosquitoes. Also controls gnats and face, stable and house flies.
Tags: bronco gold, endure sweat resistent, fly control, fly spray, Mosquito Halt, pyranha wipe n' spray, repel X, Ultra Shield