Here at Argyle Feed and Hardware Store we want to provide you with the best deals on an assortment of products. This July we want to give our loyal customers 10% off trash cans and watering hoses. We have a great selection for you to choose from.
Whether or not your looking for a new trash can to keep your recycles or maybe your in need of a large bin to store feed. We welcome you to stop by today and see if you can find a new trash can to meet your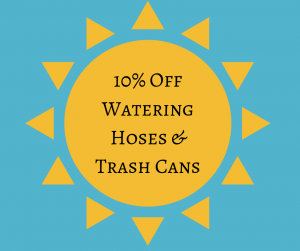 needs.
July and August are the two hottest months in Texas and keeping your plants and lawn watered becomes an essential. To ensure your plants are receiving the maximize amount of water, you may want to double check your water hoses. All lawn equipment gets worn out from time to time and we can often forget to replace them. Watering hoses should be no exception to this. Swing by Argyle Feed and Hardware Store today and get 10% off your next watering hose purchase.