Purina Amplify High-Fat Supplement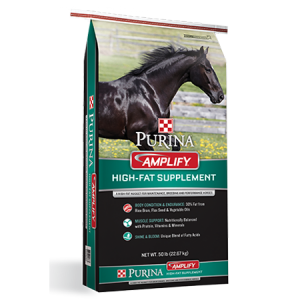 Purina® Amplify® High-Fat Horse Supplement helps hardworking horses maintain their weight with a concentrated source of calories that can be added to the daily ration. Horses with increased energy requirements can benefit from the high-calorie and easy-to-digest Amplify® formula – including competition horses, horses being prepped for sale, breeding stallions, and gestating and lactating mares. Supplement your horse's diet with this high-fat, controlled-starch nugget when additional calories are needed to maintain body condition, performance and shine.
Feed Form: Extruded Nuggets
Recommended For: Weight gain, performance, conditioning, showing and sales preparation. Also for stallions and broodmares.
Features
| | |
| --- | --- |
| FEATURES | BENEFITS |
| High Fat | 30% fat from vegetable oils, flax seed and rice bran for an optimal fatty acid profile. |
| Vitamins and Minerals | Provides 100% of the required nutrients for horses when fed as directed* so no additional supplements are necessary. *Based on "Nutrient Requirements of Horses Sixth Revised Edition – 2007" published by the National Research Council. |
| Extruded particle | Easy digestion and calorie absorption easy digestion and calorie absorption Extruded particle. |
| High Quality Protein | Proprietary amino acids (building blocks of proteins) that support strong muscle growth, shiny coat and healthy hooves. |
| Controlled Sugars and Starch | Low soluble carbohydrates may help reduce the risk of adverse health effects caused by the management error of overfeeding. |
| Calorie Dense Formula | Provides more calories per mouthful, allowing you to feed less. |
| Feed with Hay or Pasture | Nature's Essentials® Amplify® Supplement is designed to be fed with hay and/or pasture. |
| Feed Guard® Nutrition System | The FeedGuard® Nutrition System is one of the industry's most innovative and exacting quality assurance programs. FeedGuard®Nutrition System can help deliver the trust, quality and performance that horse professionals demand every day. |
Analysis
| | | | |
| --- | --- | --- | --- |
| CRUDE PROTEIN | MIN | 14.00 | % |
| CRUDE FAT | MAX | 30.00 | % |
| CRUDE FIBER | MIN | 5.00 | % |
| CALCIUM (CA) | MIN | 2.00 | % |
| CALCIUM (CA) | MAX | 2.10 | % |
| PHOSPHORUS | MIN | 0.60 | % |
| COPPER (CU) | MIN | 55 | PPM |
| SELENIUM (SE) | MIN | 1.40 | PPM |
| ZINC (ZN) | MIN | 225 | PPM |
| VITAMIN A | MIN | 16000 | IU/LB |
| VITAMIN E | MIN | 150 | IU/LB |
Directions
Feeding Directions: Begin with 1 lb per day feeding rate, gradually increase by .5 lb/day every 2 days until the desired feeding rates are achieved. Begin feeding 60 days prior to competition, sale, show or breeding season. Maximum feeding rate for most horses should be 4 lbs of Amplify® Supplement per day. Horses have varying acceptance of higher fat diets and supplements and as the fat level in the diet is increased, some horses may begin to show diminished intake. If that occurs, reduce the feeding rate or try blending Amplify® Supplement with a small amount of sweet feed. Important Considerations:
Do not feed free-choice
Feed at regular times (at least twice daily). When feeding rates exceed 1% of body weight, three daily feedings are preferred
Any feed changes should be made gradually over a period of 7 to 10 days
Changes in the rate of feeding should not exceed one pound per day for each horse
Feed along with at least 1-1.5% of horse's body weight of good quality hay or the equivalent in pasture to make a complete ration
Have plenty of fresh, clean water available at all times
Prevent the rapid eating by the horse of any feed stuffs
Store feed in a dry, well-ventilated area protected from rodents and insects
Do not feed moldy or insect-infested feed to animals as it may cause illness or death
This product to be fed to the animal species as directed on the label
In addition to nutritional care and consultation, be sure to make regular veterinary checkups and farrier appointments part of your horse wellness program