NEW OMOLENE WITH OUTLAST!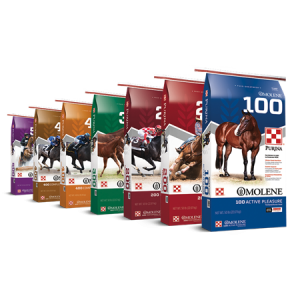 New Omolene with Outlast! You'll see a familiar product with a new look in the store, Purina Omolene with Outast! Purina Omolene horse feed has been updated to include Purina® Outlast® Gastric Support Supplement. The current calcium source in all Omolene® feeds is being replaced with a natural calcium source (also contained in the Outlast® Gastric Support Supplement) that meets calcium requirements but has the additional benefit of very effectively helping support optimal gastric pH. All formulas will still provide the same quality balanced nutrition customers have come to rely upon.
As a loyal Purina® customer, we want you to be the first to know about exciting updates coming to this long-standing line of textured feed. First, we want to assure you that all of the Purina® Omolene® formulas will continue to provide the excellent nutritional support you've come to depend on and the updates will not negatively affect your horses in any way.
You may be aware of Purina® Outlast® Gastric Support Supplement which contains a unique blend of ingredients designed to support gastric health and proper gastric pH. Purina® Outlast® Gastric Support Supplement is the foundation of the Purina® Equine Gastric Health Program. You can learn more about this program by visiting www.purinamills.com. We have received overwhelmingly positive feedback from horse owners who have followed this program and seen very favorable responses in a wide variety of horses.
Since gastric discomfort affects so many horses, reportedly up to 90% of active horses as well as occurring in broodmares and foals, it made sense for us to update the Purina® Omolene® Horse Feed line to include the Outlast® Gastric Support ingredients. With this update, every Omolene® horse will benefit from Outlast® Gastric Support with every meal.
To help showcase this exciting update to Purina® Omolene® horse feed, we're giving the packaging a fresh new look. We hope you like it as much as we do. We know your horses will benefit from the inclusion of Outlast® Gastric Support Supplement and we hope you'll appreciate the convenience and value of effective gastric support being included in the feed. The new packaging and Outlast® Gastric Support benefit will be available in Omolene® #100, #200, #300, #400 and #500 in September 2019 and Omolene® #200RT and #400RT in October 2019.
Come see the new look of Omolene with Outlast at Argyle Feed Store. We can answer any questions you may about these changes.