Start & Grow Medicated Crumbles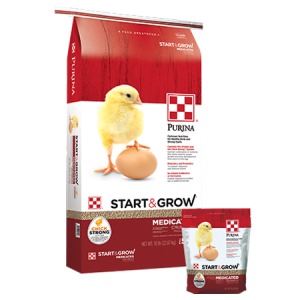 Purina Start & Grow Medicated has optimum nutrition for raising laying chicks from hatch to laying age (18-20 weeks). This complete feed with 18% – protein and quality nutrients is perfect for a strong start and early hen development. Formulated with prebiotics, and probiotics to support optimum digestive health and immune function. Also available as non-medicated feed.
Also available in non-medicated formula.
Features
| | |
| --- | --- |
| FEATURES | BENEFITS |
| A Chick Strong™ Feed | Complete and balanced recipe with the best combination of the 38 required nutrients chicks need to grow at a proper pace, no supplements required. |
| Research-Proven Feed | Nutritionists, feed formulators and flock caregivers evaluate our feeds before we put them on the market. |
| Brighter Beaks and Shanks | Includes a proprietary level of marigold extract to ensure bright coloring for a beautiful flock. |
| Muscle and Skeletal Development Support | Includes a proprietary level of marigold extract to ensure bright coloring for a beautiful flock. |
| Supports Healthy Immune System | It contains prebiotics and probiotics to support immune and digestive health. |
| Key Level of Vitamin E | Rich in antioxidants and optimized levels of Vitamin E. |
| Complete and Balanced | Top nutrition requires no supplementation – all necessary nutrients are present. |
| Protects against coccidiosis | Includes amprolium for birds that have not been vaccinated or have an unknown vaccination status. |
Directions
Caution: Store in a dry, well-ventilated area free from rodents and insects. Never use moldy or insect-infested feed.
Ingredients
ANIMAL PROTEIN–AND FAT-FREE. Contact your local manufacturing plant for a current feed tag. Quality Controlled by Purina Mills® Research
Guaranteed Analysis
Guaranteed Analysis
Protein, not less than
18.0%
Lysine, not less than
0.90%
Methionine, not less than
0.32%
Crude Fat, not less than
3.0%
Crude Fiber, not more than
5.0%
Calcium, not less than
0.75%
Calcium, not more than
1.25%
Phosphorus
0.6%
Salt, not less than
0.35%
Salt, not more than
0.85%
Vitamin A
5,000 IU/lb
Vitamin E
14 IU/lb
Feeding
Feed Form: Crumbles Feed Purina® Start & Grow® Medicated feed to layer chicks from day one through week 18 as at least 90 percent of the chick's diet. Transition to Purina® Layena® or Layena® Plus Omega-3 feed at week 18. Caution Use as the sole source of amprolium. Do not change the litter while giving this feed unless absolutely necessary. If losses exceed 0.5% in a two (2) day period, obtain an accurate diagnosis, and follow the instructions of your veterinarian or poultry pathologist. Losses may result from intercurrent disease or other conditions under field conditions. In replacement flocks, the grower must expect that excessive exposure to one or more species may overwhelm the drug in some flocks and prompt treatment will be required.Do not use in feeds containing bentonite. Important Please consult the feed tag sewn onto this bag for specific feeding instructions.