New Purina Professional Performance Feed and Gastric Supplements are available June, 2017. Take a look at the products and their benefits.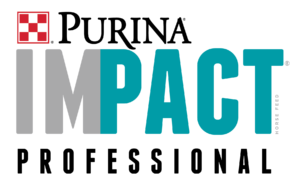 Purina Professional Performance Feed

Formulated with High-Quality Protein with desirable amino acid profiles to meet the needs of the equine athlete
Added Fat and Highly Digestible Fiber Sources provide fuel for sustained performance
Vitamin and Mineral Fortification to support bone strength, muscle, and immune function
Controlled starch and sugar
Impact Professional Senior
Complete Feed with high-quality forage built in to replace pasture or hay in your senior horse's diet
Protein, vitamin & mineral fortification specifically to meet the needs of the aging horse
Added fat and highly digestible fiber to provide necessary calories for the senior horse
Controlled starch and sugar, formulated with no corn or corn by-products
Impact Professional Mare and Foal
Formulated with high-quality protein with added amino acids including lysine and methionine to support breeding mares and growing foals
Added Fat to meet the caloric demands of breeding horses and to support hair coat shine and bloom
Vitamin and Mineral Fortification specifically designed to meet the needs of broodmares and growing horses
Controlled Starch and Sugar, formulated with no corn or corn by-products
Race Ready GT – This horse feed is formulated to meet the nutritional demands of race horses and helps support proper immune function and a healthy gastric environment.
Formulated with a full serving of Purina® Outlast™ supplement to support gastric health and proper pH
Contains anti-oxidants and a specialized yeast extract to help support immune systems of horses affected by stress
Purina® Amplify® Horse Supplement included, which contains multiple sources of fatty acids from flaxseed, stabilized rice bran, and vegetable oils to help maintain body
condition, healthy hair, coat, and skin
Beet pulp and other fermentable fiber sources support digestion and help sustain a high level of performance
Quality protein sources help support muscle strength and athletic performance
High-quality oats, beet pulp shreds, and molasses contribute to exceptional palatability for highly stressed, picky eaters
Fortified with 100% of required vitamins and minerals to support racehorse
Ultium Gastric Care – This feed is the culmination of decades of Purina equine nutrition research, and contains specialized ingredients designed to support a healthy gastric environment and immune system.
A full serving of Purina® Outlast™ supplement to support gastric health and proper pH
A specialized yeast extract to provide immune support for horses affected by the stress of competition
Highly digestible fiber sources, including beet pulp, alfalfa meal, and soy hulls, to support an optimal hindgut environment
Energy to support high-performing horses
High-quality amino acids for a strong topline and quick muscle recovery
Purina® Amplify® supplement, which includes multiple sources of fatty acids from flaxseed, stabilized rice bran, and vegetable oils to help maintain body condition, healthy hair, coat, and skin
Outlast Gastric Support Supplement
Supports GASTRIC HEALTH for optimal performance
Designed to SUPPORT PROPER pH in stressful situations
FLEXIBLE FEEDING as a snack or top-dressed