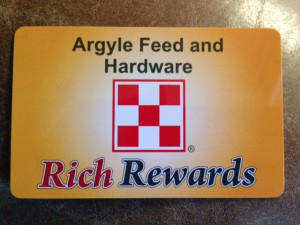 What does that mean? How can I get rich with social media? Well, maybe not rich, but you could win a $1,000 gift card to Argyle Feed Store!  And you don't have to enter anything to win.
We're working hard to grow our Facebook fan base. It allows us to keep you informed on what's going on the store, like Free Saturday BBQ's, upcoming events, kid's functions, new store items and promotions.
But— We need YOUR help! 'Like' our Rich Rewards promotion on our Facebook page anytime between now and September 1st. You might be the ONE lucky Facebook fan randomly selected from our Facebook Page to win a $1,000 gift card from Argyle Feed Store! 
That's it!  You don't have to enter a contest.  You don't have to give us your email (although if you did, you'd receive our nifty newsletter with monthly specials in it. Sign up right here on our website, it's FREE! So what are you waiting for?
Click here to LIKE our Rich Rewards Post on our Facebook Business Page. Certain restrictions apply.*
Now about that newsletter, you can enter your email here to receive our free monthly newsletter and special offers.  It's up to you, but if you like to save on your pet food and hardware items, sign up today!
*To be eligible to win, you must like Argyle Feed's Rich Rewards Promotion post on our Facebook page and reside within a 20 mile radius of Argyle Feed & Hardware. Winner will be randomly selected after September 1, 2015 and must contact us within 7 days to confirm eligibility and claim prize. No prize substitutions or cash exchanges, prize must be accepted as is.