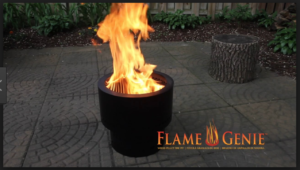 Introducing the all new Flame Genie, a wood pellet fire pit. Come down to Argyle Feed Store on November 11th between 10 am and noon and watch this fire pit in action. The folks at Flame Genie will be conducting demonstrations on how this pit works.
This new patent pending fire pit burns with wood pellets. It's clean smoke-free and sparks free flame makes it safe for you and your family. The Genie works with 2 cylinders and heats the air between them. The air flows through the bottom grate aiding pellet combustion. The wood pellets don't burn completely but instead create hot combustible air that rises through the chamber. Once this super hot air meets the gases this ignites the flame. On average it will burn a 40 lb. bag of wood pellets in about 5 hours. It puts out 105000 BTU and is very safe to cook on.
To keep the fires burning, add more wood pellets when the flames are highway coming through the holes. You can purchase a special shovel that lets you add pellets while sitting in your comfortable spot and not have to get up.
Benefits of a Flame Genie
No Smoke or Sparks
No Chopping Wood
No Insects
Enchanting Flame
Stop by Argyle Feed Store on November 11th and check out this wood pellet fire pit. Made with pride in the USA!