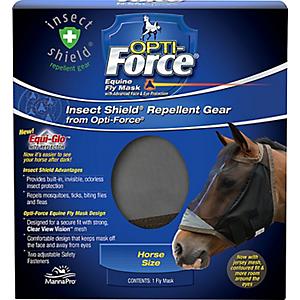 Opti-Force Fly Mask: Repel your horse's face from mosquitoes, flies, ticks and other harmful insects. With easy visibility and odorless material, this mask helps to keep your horse healthy and protected from exposed areas around the muzzle, ears and nose bridge. Opti-Force Fly Mask provides maximum comfort for your horse by maintaining a secure fit.
Opti-Force Fly Spray: Opti-Force® Sweat-Resistant Equine Fly Spray repels insects and provides quick knockdown from biting and nuisance flies, gnats and mosquitoes (Culex spp.) that may transmit West Nile Virus. Made for horses and ponies, this sweat-resistant fly spray offers 14-day weather-resistant protection. Contains cypermethrin as an active ingredient. 32 ounces in a sprayer bottle.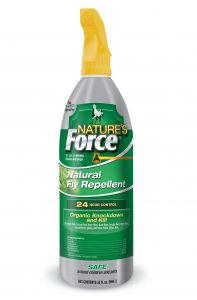 Nature Force Spray: Made with all natural ingredients such as clove oil, thyme oil, and cinnamon oil and lemon grass oil to keep insects away without any harsh chemicals that could affect your horse. Natures force spray also creates a pleasant and natural smell to your horse.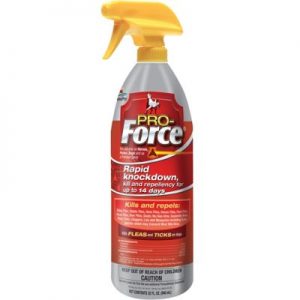 ProForce Fly Mask and Spray: This easy applicable fly spray quickly combats and kills unnecessary insects for up to 14 days. Cost-efficient and effective, Pro-Force Spray can also be used on a horse along with ponies, dogs, and donkeys. Available in 32 oz. spray. Pro-Force Fly Mask is made with a soft and comfortable fabric that leaves plenty of room for your horse's lashes.
10% off select horse fly sprays special expires June 30th, 2019