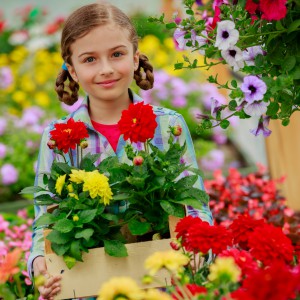 Consider these 10 tips for purchasing plants— Spending some time preparing and planning for your garden will pay off in the end!
1.    Know your zone:  What garden zone do you live in?  Understanding your garden zone will help determine what plants will thrive in your environment,and which you should stay away from.
2.    Do some research: Once you know which plants do best in your zone, find out what infestation or disease they are susceptible to. Which pests are abundant in your area?  Once you know you can make an informed decision on which plants to purchase.
3.    Review your landscape: Shade or sun?  Look at your landscape and determine which areas are best for sun-loving plants and shade plants.  Look at the landscape throughout the day to determine how much sun these areas receive.
4.    Design your flower bed: How much space do you have?  A small space that needs a pop of color?  Or a larger space that will require a variety of bushes, plants and flowers?
5.    Prepare for the future: Remember that plants grow! Check the projected height and width of each plant to avoid unhealthy and unattractive crowding.
6.    Arrangement matters: Layer your arrangement. Step 5 will help you determine the full hight of your plant.  Keep this in mind as you plant, place the taller plants in the back and shorter plants or flowers in front.
7.    Tis the season: Remember your seasons when building your garden.  Do they bloom all season or for a few weeks?  Is color important?  Think about different varieties and the timing of blooms as you arrange and build your landscaping.
8.    Buds are best: When visiting your local nursery or feed store, look for plants with more buds, not blooms.  Buds will eventually bloom and have you garden looking good longer.
9.    Healthy plants: Look for healthy plants.  Look for insects or browning leaves, and check for an overly crowded or shriveled root ball.
10.  Understand your landscape: Do you have time to maintain your landscape?  Do you have the time to water and trim your landscape?  Are you in a drought with water restrictions?  Think about this as you plan.  Low-maintenance or a drought tolerant landscape may be better.
A little time, thought and preparation will go a long way to enjoying your garden and landscape. Visit us at Argyle Feed & Hardware for a great selection of high-quality, non-GMO Bonnie Plants.  We have new vegetable, herb and tomato plant varieties arriving every Friday!
Source: Proven Winners