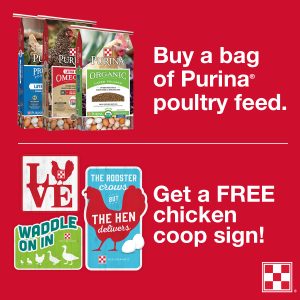 It's Flocktober at Argyle Feed Store!
Visit Argyle Feed Store during our Purina Flocktober Event and get a FREE limited-edition coop sign, when you purchase a large bag of Purina Layena feed, 35 lb bags or larger!
Are your chicks growing? Once your chicks hit 18 weeks old or lay their first egg, it's time to transition to Purina Layena poultry feed to sustain growth and promote egg production! Try our new Organic Chicken Feed; it's GMO-free!
Purina® Layena® includes our Oyster Strong® System for strong shells. Oyster shell provides another source of calcium when the hens need it most. Oyster shell is a larger particle size than limestone. This means that oyster shell will stay in the digestive tract longer and will provide a source of calcium for egg shell production over a longer period of time than smaller particle sources of calcium. This is especially important at night when egg shell formation is rapidly occurring and dietary sources of calcium are limited because the bird is not eating. So stop by and your bag today!
*Certain restrictions apply. Offer good while coop sign quantities last; limit one sign per purchase per customer, please.
Offer valid through October 31, 2018, or while supplies last.