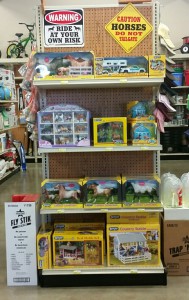 Argyle Feed & Hardware now carries Breyer Model Horses! Perfect for adding to your own collection or early Christmas gift shopping for the horse lover on your list! These one of a kind collectible models are beloved by collectors and kids of all ages. We have the newest products in stock with several horses and model sets to choose from.
Breyer model horses begin as beautiful horse sculptures created by leading equine artists that are then cast into a copper and steel mold. Each model is created one at a time from the original mold, which is injected with a special resin selected by Breyer for its ability to capture the depth of detail, delicate feel and richness of color in our models. Once the model is molded, Breyer's artisans take over, and the handwork begins. Each individual Breyer model is prepped and finished by hand and then turned over to the painting department for hand painting (with airbrushes) and detailing (with paint brushes). In all, some 20 artisans work on each individual model horse, creating an exquisite hand-made model horse that is as individual as the horse that inspired it.
Come to Argyle Feed today to see all of our new Breyer Model Collectibles horses. Hurry in for the best selection!