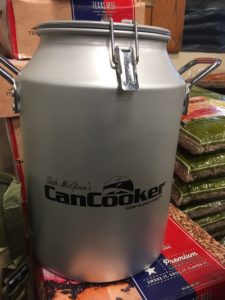 Seth McGinn's CanCooker is now available at Argyle Feed Store. This innovative, easy-to-use cooking system, has made its way into the hearts of busy moms and dads everywhere. Now for just $89.99 this piece of cookware will be a great addition to your kitchen.
Not only is it simple to use but it's also a very healthy way of cooking your meals. Think of a slow cooker or crockpot but much faster. All you do is pack the cooker with the ingredients you want and your dinners are ready in no time. You can use this anywhere, from indoors to outdoors it's very versatile. Use it over a stovetop, grill, burner or over a campfire. This revolutionary cookware uses steam to cook main dishes, soups, and stews, to even desserts! And guess what you don't have to wait all day like a crock-pot because the CanCooker cooks in just one hour.
CanCooker Instructions
STEP 1: Prep your ingredients according to your recipe
STEP 2: Spray interior with non-stick spray. Put vegetables in first, then meat, fish or seafood. Seasoning and liquid go in last. Any liquid works – water, broth, beer, soda or juice. Put on the lid and latch.
STEP 3: Bring to a steam on low to medium / low heat – Cook on any heat source, including stovetop, grill, camp stove, campfire and Seth McGinn's Multi-Fuel Portable Cooktop. Reduce heat when you see steam coming from the vent hole.
STEP 4: Steam according to your recipe – The CanCooker will be HOT – be sure to use oven mitts when taking the CanCooker off the heat source. Let it sit for 5 minutes. Use oven mitts when removing the lid and watch out for any remaining steam.
For some delicious quick recipes you can try out, go to CanCooker recipes. Whether you are a weekend warrior, an outdoor adventurer, or just have a busy lifestyle every day, the CanCooker will be there to make meals easier.