Save Big on Purina FEEDS during Check-R-Board Day at Argyle Feed!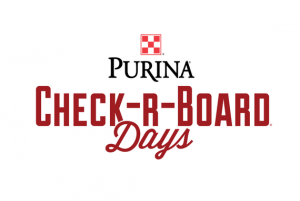 Get a truckload of big savings on Purina Horse Feed products during our Check-R-Board Day on Saturday, December 7th at Argyle Feed & Hardware. We're offering you our lowest prices all year on select premium Purina Feeds AND treating you to free lunch from 11 am 'til 1 pm! Don't miss out on the best opportunity to stock up at these incredible prices. New this year, no limits on the amount of bags you purchase! (But if you're going to order a bunch, give us a heads-up, please! We want to make sure we have it for you. Large orders must let us know by December 2!)
You'll also save 10% on the following Purina Horse Feeds:
Omolene

Impact

Wellsolve

Ultium
In addition to the special pricing on Purina Horse Feeds, we're offering a Buy 1 bag, Get 1 bag FREE on PMI Nutrition Feeds. These include Exclusive, Red Flannel, and Infinia pet foods.
And if you still haven't made the switch to Purina Feeds, how does a FREE bag of feed sound? Bring your competitor's receipts or empty bags and we'll match them with a FREE bag of like Purina Feeds. You heard us right. Bring your empty bags or receipts of Nutrena, Bluebonnet, ADM, Thomas Moore, Dumor, MFN, Big V, and others and we'll replace them with a FREE bag of Purina Feed. Have more than 1 bag, no problem. Make the switch, you'll be glad you did.
Special pricing on select Purina Horse Feed is good for one day only, Saturday, December 7th.
Join us as we celebrate you, our customer, during Check-R-Board Day!