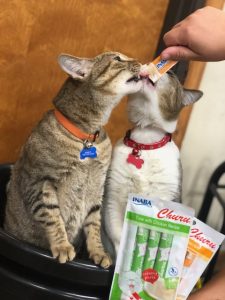 Churu Cat Treats are a favorite with cats. It's definitely a favorite with our very own store cats, Monkey, and Checkers. These treats are a delicious, nutritious, gluten-free and a grain free option for your cats. They provide a good source of protein and the Vitamin E and helps prevent dehydration. This is not intended to replace meals but served as a treat your cats will love. They will eat it right from your hand.
Key Benefits:
Has no grains, no preservatives or artificial colors
High in moisture cats need for health (90% or more)
Lick or nibble treat great for, on demand, no bowl needed
Have fun with your cats and give them a treat they can truly look forward to getting.
Your bond with your cat is special, make it even better with Churu Cat Treats now available at Argyle Feed Store!