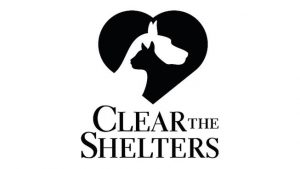 Find a new "fur-ever" friend at the largest pet adoption effort ever held in North Texas. Clear The Shelters Day is Saturday, August 17th. During this special adoption event, all spayed and neutered animals will be available to the public at no cost, although other fees may apply.
We want to thank you for adopting a homeless animal during this event— Bring your adoption papers from Clear The Shelters, or within the past 30 days, to Argyle Feed to receive a free bag of Purina Exclusive Dog Food or 10% off other brands of food.
During the summer, many of the shelters swell with abandoned and surrendered pets after spring births or simply from people who give up their animals when they leave for vacation. The Grand total number of pets adopted during this event since 2015 is 256,688.
Please consider opening your heart and home to an animal in need. Below is a listing of shelters that are participating in "Clear The Shelter" day.
ARLINGTON
Arlington Animal Services, 1000 SE Green Oaks, Arlington, TX 76018
BALCH SPRINGS
Balch Springs Animal Shelter, 3117 Hickory Tree Road, Balch Springs, TX 75180
BEDFORD
Bedford Animal Control & Shelter, 1809 Reliance Parkway, Bedford, TX 76021
BENBROOK
Humane Society of North Texas – Benbrook Waggin' Tails Adoption Center, 9009 Benbrook Boulevard, Benbrook, TX 76126
BURLESON
Burleson Animal Shelter, 775 SE John Jones Drive, Burleson, TX 76028
CARROLLTON
Carrollton Animal Services, 2247 Sandy Lake Road, Carrollton, TX 75006
CEDAR HILL
Tri-City Animal Shelter & Adoption Center (Cedar Hill, DeSoto, Duncanville), 1150 East Pleasant Run Road, Cedar Hill, TX 75104
CLEBURNE
Cleburne Animal Services, 2375 Service Drive, Cleburne, TX 76033
COPPELL
Coppell Animal Services, 2375 Service Drive, Cleburne, TX 76033
DALLAS
Dallas Animal Services, 1818 N. Westmoreland Road, Dallas, TX 75212
Humane Society of Dallas County/Dog and Kitty City, 2719 Manor Way, Dallas, TX 75235
SPCA of Texas – Jan Rees-Jones Animal Care Center, 2400 Lone Star Drive, Dallas, TX 75212
DECATUR
Wise County Animal Services, 3400 S FM 51, Decatur, TX 76234 (street address is 119 PR 4195)
DENISON
Denison Animal Welfare Group, 2500 W. Morton Street, Denison, TX 75021
FARMERS BRANCH
Farmers Branch Animal Services, 3727 Valley View Lane, Farmers Branch, TX 75244
FLOWER MOUND
Flower Mound Animal Services, 3950 Justin Road, Flower Mound, TX 75077
FORT WORTH
Fort Worth Animal Care & Control Center, 4900 Martin Street, Fort Worth, TX 76119
Humane Society of North Texas – Main Shelter, 1840 East Lancaster Avenue, Fort Worth, TX 76103
GARLAND
Garland Animal Services, 600 Tower Street, Garland, TX 75040
GRAND PRAIRIE
Grand Prairie Animal Services, 2222 West Warrior Trail, Grand Prairie, TX 75052
GRAPEVINE
Grapevine Animal Services, 500 Shady Brook Drive, Grapevine, TX 76051
IRVING
DFW Humane Society, 4140 Valley View Lane, Irving, TX 75038
Irving Animal Services Department, 4140 Valley View Lane, Irving, TX 75038
KELLER
Humane Society North Texas – Keller Regional Adoption Center, 330 Rufe Snow Drive, Keller, TX 76248
Humane Society of North Texas – Keller Welcome Home Adoption Center, 363 Keller Parkway, Keller, TX 76428
LANCASTER
Lancaster Animal Shelter, 700 E. Main Street, Lancaster, TX 75146
LEWISVILLE
Lewisville Animal Shelter & Adoption Center, 995 East Valley Ridge Boulevard, Lewisville, TX 75057
MANSFIELD
Mansfield Animal Care & Control, 407 Industrial Boulevard, Mansfield, TX 76063
McKINNEY
Collin County Animal Shelter, 4750 Community Avenue, McKinney, TX 75071
SPCA of Texas – Russell H. Perry Animal Care Center, 8411 Stacy Road, McKinney, TX 75070
MESQUITE
Mesquite Animal Shelter and Adoption Center, 1650 Gross Road, Mesquite, TX 75149
MURPHY
Murphy Animal Control, 205 North Murphy Road, Murphy, TX 75094
NORTH RICHLAND HILLS
North Richland Hills Animal Adoption & Rescue Center, 7301 Iron Horse Boulevard, North Richland Hills, TX 76180
PLANO
Plano Animal Services, 4028 W. Plano Parkway, Plano, TX 75093
RICHARDSON
Richardson Animal Shelter, 1330 Columbia Drive, Richardson, TX 75081
RICHLAND HILLS
Richland Hills Animal Services, 7049 Baker Boulevard, Richland Hills, TX 76118
ROYSE CITY
Royse City Animal Control, 1101 N. Josephine Street, Royse City, TX 75189
SACHSE
Sachse Animal Shelter, 6436 Sachse Road, Sachse, TX 75048
SEAGOVILLE
Seagoville Animal Shelter, 1330 E Malloy Bridge Road, Seagoville, TX 75159
SUNNYVALE
Sunnyvale Animal Control, 371 Long Creek Road, Sunnyvale, TX 75182
WATAUGA
Watauga Animal Services, 5203 Watauga Road, Watauga, TX 76148
WAXAHACHIE
Ellis County SPCA, 2570 FM 878, Waxahachie, TX 75165
WEATHERFORD
Weatherford Animal Shelter, 403 Hickory Lane, Weatherford, TX 76086
WYLIE
Wylie Animal Control, 949 Hensley Lane, Building 100, Wylie, TX 75098
Tags: adoption, cleartheshelters