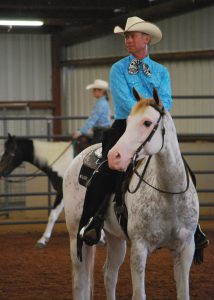 Rose Gate Farm has been in business and winning awards since 2004. Pete's yearly attendance at World and National shows has garnished him with more than 20 Championships, representing a variety of breeds and disciplines. His students as well have gone on to win countless riding awards.
When it comes to showing horses and training riders for competition, Rose Gate Farm has a reputation for success. They are well-known for taking young horses and riders to shows and bringing them home with a positive experience. Not purely a show barn, they also take on horses that need to be started with a solid foundation, tuned up for show or sell, or have past problems/training issues.
They have only one stipulation: You must engage.
Rose Gate Farm believes in connecting horses to riders and building a strong foundation of trust for the future that lies ahead. Their philosophy is that when your head and heart are ready, the horse will naturally follow. But this is only made possible through mutual trust and that trust can only be achieved with a passionate and engaged spirit.
Come out and meet Pete Lichau, the trainer that makes it happen, and see a true champion at work. He'll tell you himself – "We ride horses here; we ride them right. We take care of them and we love them."