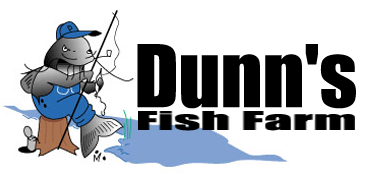 Dunns Fish Farm delivery truck arrives at Argyle Feed & Hardware on Saturday, October 24th from 9:30 a.m to 10:30 a.m. Call Dunn's at 800.433.2950 to place your order today.
Dunns Fish Farm provides pond stocking services.
They handle many types of fingerling fish including, Largemouth Bass, Channel Catfish, Hybrid Bluegill, Florida Bass, Coppernose Bluegill, Redear Bream, Black Crappie, Florida Largemouth Bass, Fathead Minnows, Oriental Koi, Diploid and Triploid Grass Carp White Amur, and Florida Hybrid Bass. Our pond management products include Dunns' Sure-Ketch Turtle Trap, Dunns' Fish Trap, "Trophy Grower" Liquid Pond Fertilizer, Aerators, Seines and so much more! You can find out more about their services on their website. Click here for pond calculators, stocking rates and fish pricing.
Pick up fish feed and any other supplies you need here at Argyle Feed & Hardware. Turtle traps, fish feeders, liquid pond fertilizer, fish traps, aerators, fountains, pond and lake treatments.
Orders preferred * Walk-up Welcome* Free Consultation