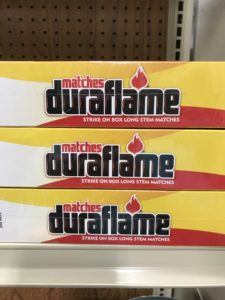 Duraflame Safety Matches are long stem matches for fireplaces, grills and other lighting needs.
50 matches per box
For fireplaces and grills
11″ long
Great for lighting fires in fireplaces and grills
Check out these great savings from Duraflame where you can SAVE $2 on any one case of duraflame® Firelogs and SAVE $1 on any one case of duraflame® Firestarters, including firestart®, stix®, or quick start®. You must register on their site to print the coupons. Click here to register.
These matches are available now at Argyle Feed Store.