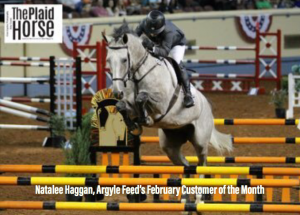 Argyle Feed & Hardware is proud to recognize Natalee Haggan as our Customer of the Month for February!  Natalee has been a customer of  Argyle Feed for several years now— A born and bred Texan, Natalee has been riding horses most of her life and shops Argyle for her horses, feed and supplies. Natalee is a champion competitive jumper who has taken top honors in several high-profile equine events including the $15,000 Blue Ribbon Grand Prix, $10,000 Leg Up for Life Charity Grand Prix and the $10,000 Azleway Fall Fun Jumper Classic. She currently rides for MTM Farms of Flower Mound. Natalee, thank you for being a good friend and customer of Argyle Feed  & Hardware! Customers like Natalee Haggan keep us doing what we strive to do best— provide the best products at the best prices in Denton County while giving you friendly, personalized service you can't find anywhere else.
That's why we do our Saturday Cookouts, Facebook promotions and reward you for your frequent purchases on Purina products and other feeds in addition to our Price Match Guarantee At Argyle Feed & Hardware. We always guarantee our prices and will match any lower price from any local store within a 20 mile radius of Argyle Feed.
We recognize a Customer of the Month each month because our customers are more than just shoppers at Argyle Feed & Hardware— you are our friends and neighbors, too. Thanks for letting us be a part of your community!