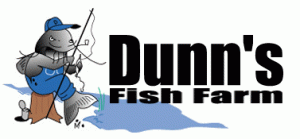 Dunn's Fish Farm visits Argyle Feed Store at our McGee location on October 22, 2014 from 11:00AM until noon. 
Dunn's Fish Farm offers a larger variety of fish including channel cat fish, largemouth bass,  blue gill, redear bream, hybrid bluegill and fathead minnows.
For additional information, click here.
Now is the time to stock your pond! Pre-Order your fish here and pick up at 1865 McGee Lane Suite 111 Lewisville, TX 75077.