This July buy one can or bag of Fussie Cat food and get one can free!
As we all know, cats are very particular about what they eat. And not just from a nutritional standpoint. If they don't love the taste of something, they simply won't eat it. So, to get the flavor of our recipes just right, we turned to the experts: actual cats.
Cats are notoriously fussy when it comes to their food. And it isn't just to test your patience. Cats are true carnivores. As such, nature demands they eat a diet based on animal proteins to thrive. That's why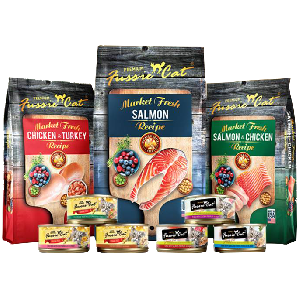 Fussie Cat always starts their recipes off with meats rich in complete proteins as the main ingredient. But it wouldn't matter how nutritious the food is if your cat won't eat it, so Fussie Cat has tailored the taste of their recipes based on actual feline feedback to ensure it's equally delicious. Fussie Cat makes food that is not just for cat but is in fact Co-Created by Cats. It is important to acknowledge that while some felines love their Boneless Chicken in Gravy with Sweet Potatoes, others enjoy Chicken with a flavorful helping of Duck, or even Anchovies. Other cats may even have more pescatarian tastes, and prefer their bowls filled with fish, like quality Tuna mixed with tasty Shrimp or Anchovies. Fussie Cat makes cat food with all these variations plus more!
Swing by Argyle Feed and Hardware Store today and purchase your own Fussie Cat bag or can and get one free can on us!