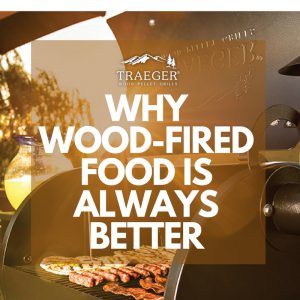 Visit Argyle Feed & Hardware this Friday, September 23rd for a Traeger Grilling Demo from 10:45 am til 2 pm. Need a new Traeger Wood-fired Pellet Grill or looking for delicious grilling ideas to try out on YOUR Traeger?
Our Traeger Rep, David Agnew, will demonstrate the versatility of Traeger Grills by cooking up some tasty treats just in time for lunch! Traeger Grills are built to give you the ultimate all-in-one outdoor cooking experience. Use it as a grill, BBQ, smoker, or a wood-fired convection oven.
Why Traeger Wood-fired?
WOOD-FIRED – COOKING THE WAY MOTHER NATURE INTENDED: THE EVOLUTION OF COOKING WITH WOOD:
3.7M B.C.

–

Cavemen cook over fire

1800's

–

Slow-cooking over wood grows in popularity

1987

–

Traeger invents the original wood pellet grill

Cooking over fire is what makes us human, it's part of evolution, and it simply tastes better.

MEAT. FIRE. GOOD.
TASTE: IT'S A FACT – COOKING WITH WOOD TASTES BETTER
Pure hardwood is the fuel for Traeger's signature flavor. Traeger owners and BBQ enthusiasts agree that wood-fired flavor is what they love most about their grill, because it simply tastes better than charcoal or gas. Real wood, real flavor – every time. Taste the wood-fired difference:
VERSATILITY: GRILL, SMOKE, BAKE, ROAST, BRAISE & BBQ
Traeger 6-in-1 versatility allows you to cook hot and fast or low and slow. When you fire up your Traeger, you ignite the power to grill, smoke, bake, roast, braise, and BBQ – you're the master of all trades. From baby back ribs to wood-fired pizza, smoky mac & cheese and even homemade apple pie, anything you can cook up in your head, you can cook up on your Traeger.
Bring the family and your appetite this Friday, September 23rd to Argyle Feed to find out for yourself just how much better food tastes when fired up on a Traeger Pellet Grill!