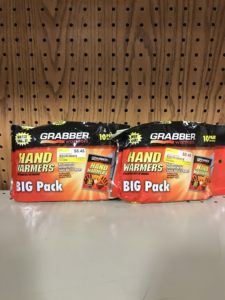 Keep your hands warm this winter with the Grabber Hand Warmers now available at Argyle Feed Store. These hand warmers are great for those freezing cold football games and tailgating parties that are fun but not fun for your hands. This warmer lasts for 7 hours or more and there is no shaking or kneading involved. It's easy just place the warmer in your glove or coat pocket and you'll be toasty in no time.
Features of Grabber Hand Warmers
Comfort with soft fabric and rounded edges
Conforms better to large hands
Innovative warmer industry new technology
Max Temp: 156F (69C) Avg Temp: 135F (57C)
Duration: 7+ hours
Measurements: 2 x 3.5 in.