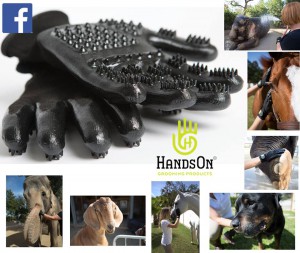 Throw away those curry combs and pet bathing mitts— Get HandsOn Grooming Gloves now at Argyle Feed & Hardware! HandsOn Gloves are a revolutionary concept that reaches far beyond the traditional curry combs, mitts and scrubbers on the market today. Wet or dry, they won't slip or fall off while providing you as well as your horses and pets with a more thorough and enjoyable bathing and grooming experience.
About HandsOn Grooming Gloves
HandsOn Gloves are made of tough nitrile, PVC and nylon which offer you numerous excellent results as a hypoallergenic designed product including the ability to avoid allergenic reactions some people may experience with common rubber or latex glove products.
There is NO LATEX RUBBER or common rubber used in the manufacture of HandsOn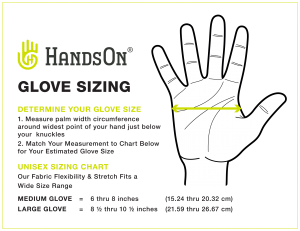 Gloves!
Some insect repellant liquids or sprays may contain chemicals or substances which deteriorate synthetic product components in all synthetic products produced by many manufacturers, not just our gloves; so, please read the product safety labels for your protection. HandsOn product components generally have high resistance to chemicals, oils and punctures; this is accomplished without compromising elasticity and flexible strength. That's the foundation of tough and durable HandsOn Gloves!
Watch HandsOn Grooming Gloves in action: