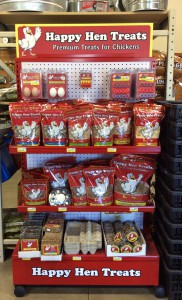 Argyle Feed & Hardware carries Happy Hen Premium Treats for Chickens in these varieties:
Mealworm Frenzy
Contains natural dried mealworms that chickens absolutely love to eat. Dried mealworms offer chickens the taste they love without the inconvenience of storing and handling live worms.Available in 3 sizes (3.5 oz, 10 oz, & 30 oz).
Party Mix
Contains natural and healthy ingredients that chickens absolutely love to eat. Choose from 3 tasty options: Mealworm & Corn, Mealworm & Oat, and Sunflower & Raisin.
Treat Cake
Happy Hen's tasty Seed & Worm Treat Cake provides a nutritious snack while reducing boredom and pecking!  By hanging the Treat Cake and letting it swing, your chickens will have a blast trying to taste all the different flavors. This 3.2 oz cake contains a blend of seeds and mealworms that your chickens will love.
Treat Cake Square
Your chickens will go wild for this Mealworm & Sunflower Treat Square! This 6.5-oz treat square is all natural and uses ingredients like mealworms and sunflower kernels that chickens enjoy, ensuring that they eat every delicious morsel.
Treat Ball
Chickens will look forward to being cooped up when they have a fun Treat Ball to play with. Chickens can enjoy pecking away at cabbage, lettuce, fresh fruits, or any other healthy treats that you can pack into the treat ball. (4″ diameter) Color may vary.
Happy Hen Treats continues to expand their line of quality products made specifically for chickens. Find Happy Hen Treats and everything else you need to "spoil your flock" at Argyle Feed & Hardware. Waterers, coops, bedding and, of course, a wide variety of poultry feeds for all stages.