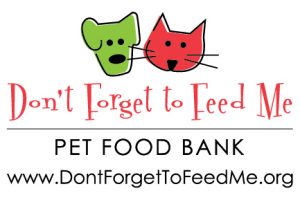 Argyle Feed Store and Don't Forget to Feed Me (DF2FM) have partnered to support a holiday pet food drive from December 7 through January 1, 2020. Help us collect canned and dry pet food for cats and dogs, and gallon-sized zip lock bags to provide to pet owners in need.
The mission of Don't Forget to Feed Me (DF2FM) is to supply pet food to local agencies in support of pet owners. By providing pet food for those in need during challenging financial times, we offer an option to surrendering – or worse, abandoning – a family pet. Don't Forget to Feed Me helps to ensure that no pet owner ever has to choose between stay…or go.
DF2FM is the only social service agency in the Metroplex focused solely on directly assisting pet owners with pet food. By keeping our focus on this one issue, we are able to address this specific need efficiently and quickly. DF2FM does not attempt to duplicate services offered by other organizations or agencies.
Help us reach our goal of up to 200 donated items during our holiday pet food drive.