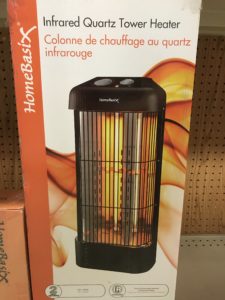 It's winter and cold is inevitable. Keep your home warm for the winter with our HomeBasix Infrared Quartz Tower Heater now in-stock at Argyle Feed Store. This heater is an infrared quartz heater that works by heating objects in a room rather than the air around the heater. This allows heating the room much faster and warmer. Below are the features of this unit.
Features
Heater Type: Infrared
5200 BTU's
Dimensions (inches): 22-5/8×8-3/4×10
Tip Over and Overheat Protection
Dual Infrared Quartz Tubes
750W Low Setting
1500W High Setting
Rotary Dial Controls
Metal casing and wire safety grill
Keep warm this winter with the HomeBasix Infrared Quartz Tower Heater.