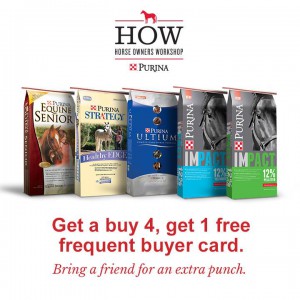 Join Argyle Feed for a Horse Owner's Workshop on Thursday, April 17, 2014 from 6-8 pm.
1842 FM 407
Bartonville TX
Come hear from Bob Wucher with Purina Animal Nutrition speak on feed economics.  Learn how to pick the best feed for your horse, how to maximize performance, and what the true cost of your feeding program is.
Attendees can register to win a year's supply of horse feed from Purina Animal Nutrition.  Coupons will be offered.
Dinner included with this FREE event, please RSVP to reserve your spot.  Call the store at (940) 241-2444 or sign up online below.
[contact-form-7 404 "Not Found"]