The Pup Club: Members Get Big Rewards & Savings!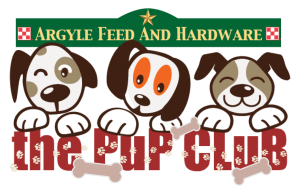 Join Argyle Feed's Pup Club and come away with big rewards and savings. The club is free to join, signup in the store. One membership per household for The Pup Club & Chicks Rule Chicken Club.  Dog owners of any age can join the club. Members receive the following for signing up: 
Bring your dog (or dogs!) to the store when you sign up for our Pup Club and receive one (1) free 5-pound bag of Exclusive or Infinia dog food. One free bag per email address, not per pet. Valid for adult family dogs, new puppies or adopted dogs with proof of recent adoption papers. We'll take a pic of your pup and display it on our Pup Club Member Board as well as on our website and Facebook.

Pup Club members receive a monthly email reward. Bring the email coupon into Argyle Feed to redeem your reward or savings each month. One membership & email per family (not per pet). Valid for 7 days, no reproductions or copies. 

Submit a picture of your pet to us monthly via our website or post one to our Facebook page. We'll pick one lucky photo each month to feature in our monthly newsletter. 
Take advantage of our Frequent Purchase Club! Purchase 8 bags of PMI Exclusive, Red Flannel or Infinia dog food and get a bag free! 
It's a great time to join Argyle Feed's Pup Club! Bring your pups and visit us at the store today to sign up and get your free gift!