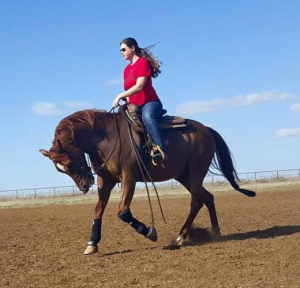 Welcome to our first monthly post starting in June for Kaylan's Horse Sense Blog! Every month, I will bring you tips on managing your horses as well as product information for keeping your horses healthy, happy and in top condition.
Whew! The heat has finally caught up to us this summer. Don't forget about your animals and the already oppressive hot temps. If you can provide shade in the pasture with trees or sheds along with good air circulation, your horses will greatly appreciate it! For horses in stalls,  a fan or two will circulate the air around the stall. When you are preparing to ride your horse this summer, please always remember to account for the daily high temperatures, humidity and heat index. As a common rule, do not ride above a combined temperature and humidity of 180°, for that matter, when temps and humidity are 150° and above, you should ride with caution and not overdo your activity. This article from the University of Minnesota Extension is a great reference for managing your horses during hot weather.  U of M Equine experts offer valuable tips for assessing your horse's heat tolerance and hydration levels to avoid heat stress.  Purina has a great multi vitamin mineral package containing electrolytes you can offer your horse:  feed daily as a block in the pasture, stall or pen or add as a loose supplement to their grain or in a separate pan. The horse will typically consume 2 ounces a day. Here is the product information sheet on Purina Free Balance 12:12 Vitamin & Mineral Supplement; please feel free to download and print for your reference.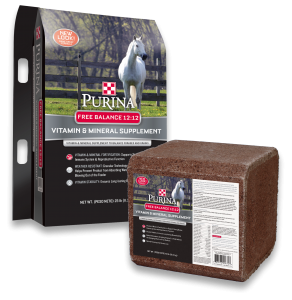 If we manage our horses well in the heat, we can then help minimize their chance to twist, tie up or go off their feed and water. Dr. Katie Young, Consultant for Purina Horse Feeds, has a great article which discusses the architecture of the equine digestive system.  She explains in detail how easy it is for a horse's gut to become twisted and impacted which can cause a horse to fall quickly ill.  When we can understand our horses' gut better then we can hopefully better manage our horses better day in and day out. Everything which goes into our horses must pass through their bodies. Horses are physically unable to throw up and can barely cough something out if it does go down wrong or they inhale something. I hope these tips and articles will help you keep your horses healthy during our blazing hot Texas summer heat!
Stay cool and stay tuned in July for our next blog about forage for horses! If you have questions or need help with your horse's nutritional management needs, please contact me via email at [email protected].
Kaylan Herbst, Purina Lifestyle Product Specialist at Argyle Feed & Hardware