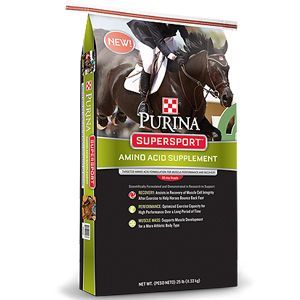 It's March Madness Savings time at Argyle Feed Store. Stop in for savings on select Purina Horse Feeds during the month of March at Argyle Feed Store.
Buy one Bag of Purina Super Sport, Amplify, or Free Balance in March, and get a second bag FREE! That's right, our March Madness savings is Buy 1, Get 1 FREE on select Purina Horse feeds in March.
Purina Super Sport amino acid supplement is scientifically formulated and demonstrated in published research to support:
RECOVERY: More rapid recovery of muscle cell integrity after exercise to help horses bounce back faster.
PERFORMANCE: Increased exercise capacity for higher performance over a longer period of time.
MUSCLE MASS: Supports muscle development for a more athletic body type.
Purina Amplify Horse Supplement is a high-fat, controlled starch nugget for weight gain, performance, shine and bloom.
Formulated for horses that need extra calories from fat for weight gain, conditioning, competition, showing and sales preparation. Also appropriate for stallions and gestating and lactating mares.
Free Balance 12:12 Horse Feed provides the added vitamins and minerals needed to balance a pasture or hay-only diet. Available as a palatable granular mineral or block.
Formulated for horses on a pasture or hay-only diet and those with increased nutritional needs, such as growing horses and broodmares.