Argyle Feed and Hardware is your go to source for Mazuri Exotic Animal Feeds. We carry many types of feeds for all sorts of exotic animals. MAZURI Exotic Animal Nutrition is a world renowned exotic feeds manufacturing company in Richmond, IN. Their dedication to producing high nutritional feed products for all exotic animals has made them number one in the industry. Zoo keepers, veteranians, exotic pet owners, and breeders alike, trust the Mazuri difference. Zoo keepers like the Animal Adventure Park in Harpursville, NY feed their zoo animals like April the giraffe with Mazuri feed.
If you didn't know, April the giraffe just had a baby male calf. This is a critical time for April and her calf to get the best nutritional feed on the market. The staff at Animal Adventure Park make sure they both get Mazuri feed.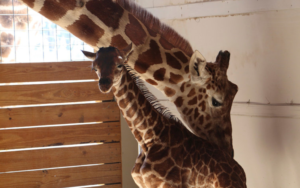 Backed by extensive research, Mazuri feed products are hormone and drug free. It's FSSC 22000-certified which is the highest standard certification you can achieve. Owned by owned by PMI Nutrition, a subsidiary of Land O'Lakes Purina Feed, LLC, these high standards and testing must be adhered to.
Check out our exotic animal section at the store. Right now we are carrying llamas, mini pig, ferrets, tortoise, rabbit, koi, and chinchilla Mazuri feeds.
Trust the Mazuri Exotic Animal Feeds Promise