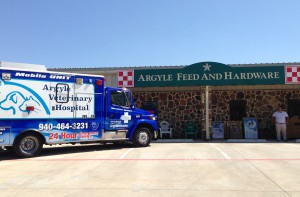 Need to update pet shots but no time during the week? Argyle Feed & Hardware hosts a mobile vet clinic on Sunday, September 6th from 11 am to 4 pm. Argyle Veterinary Hospital will be here providing vaccinations and heartworm testing for your pets.
About Argyle Veterinary Hospital AVH offers everything from the routine preventive/wellness care to comprehensive internal medicine and surgery for small animal and equine health care. Argyle Veterinary Hospital's seven doctor practice is continuously staying educated in the latest state of the art medicine to ensure each pet gets the care they deserve.
For more information about services and fees, please contact Argyle Veterinary Hospital at 940-464-3231. Bring your pets to Argyle Feed for convenient mobile vaccination services on Sunday, September 6th!