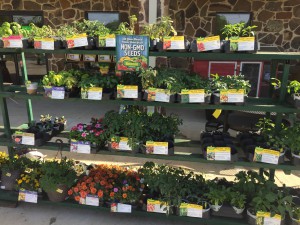 It's time for Spring gardening with Bonnie Plants at Argyle Feed & Hardware! We have a great selection of non-GMO vegetable and flowering plants arriving weekly at Argyle Feed. Plant varieties include tomatoes, peppers, herbs, bedding flowers and more.
A national plant wholesaler based in Alabama, Bonnie Plants supplies retail stores all over the United States including Argyle Feed & Hardware . You may recognize Bonnie Plant products by the green hat logo and biodegradable pots. If you're a Bonnie gardener, you know you're getting quality plants—the best vegetable, herb, and flower plants available.
After you've selected your plants, don't forget potting soil, compost, garden seeds, weed and insect controllers, too! Our store is well-stocked for all of your lawn and gardening needs with top brand conventional and organic gardening products from Scotts, Soil Mender, Bonide and Miracle Gro.
Looking for some creative garden ideas this Spring? Check out these inspiring gardening ideas from Bonnie Plants and other gardening blog resources:
Before you start your garden, find out what you should consider before purchasing plants!
Visit Argyle Feed & Hardware today for all your garden tools, fertilizers, pest control and plant needs from Bonnie Plants.
Tags: bonnie plants, gardens, vegetable garden