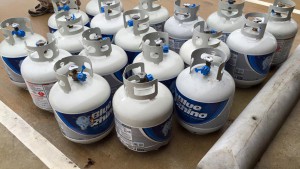 Need a new propane tank for your grill or heaters? We can help! Blue Rhino Propane Tank exchange is now available at Argyle Feed & Hardware. Blue Rhino is America's leading brand of propane tank exchange. And, together with Blue Rhino, Argyle Feed is dedicated to providing quick, easy access to Blue Rhino propane that's close to home. Simply drop, swap and go — and always be ready to fire up the grill.
Always cleaned
Always inspected
Always leak-tested
Swap or purchase a new tank of Blue Rhino Propane and receive a $3 rebate by mail. Click here for a money saving rebate on your Blue Rhino propane tank exchange.
Getting your $3 mail-in rebate
Purchase a Blue Rhino propane tank, with or without exchanging an empty tank, at Argyle Feed & Hardware, between now and 12/31/17. Print the rebate form & complete it in its entirety. Limit 1 rebate per household*, per calendar year.
Return completed rebate form, original receipt, and original proof of purchase** from tank package in a stamped envelope to the following address before 1/31/18:
Blue Rhino Tank Exchange Rebate
Offer 35323
P.O. Box 6075
Douglas, AZ 85655-6075
Have questions?
Contact our Customer Care team at
800.BLU.RINO (800.258.7466).