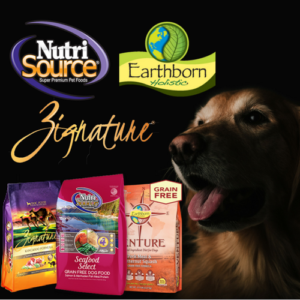 Argyle Feed Store now has three brand new dog food brands available for your family pet. These brands boast high nutritional value with limited ingredients.
Zignature's limited ingredient formula uses No Potatoes, No Grain, No Chicken, No Eggs, No Glutens, No Tapioca, No Corn & No Soy. Their Single Animal Protein Formulas are extremely palatable which encourages a healthy appetite to provide high-quality protein for strong muscles.
Earthborn Holistic is known for caring about the environment and the ingredients that go into making food for dogs. This formula contains NO Grain, NO Gluten, NO Potato, NO Egg, NO Colorants, NO Fillers, NO By-Products, NO Artificial Preservatives and NO Genetically Modified Ingredients. It is grain & gluten-free limited ingredient diet for dogs with sensitivities.
NutriSource main focus is gut health because a good immune system starts at the core, the gut. They have come up with a revolutionary supplement system called Good 4 Life®. This system will improve your pet's health no matter what level of health they are in. This formula works from the inside out often improving health within the first feeding.
New Dog Food Brands
Earthborn Venture Dog Food

Turkey Meal & Butternut Squash
Alaska Pollock Meal & Pumpkin
Duck Meal & Pumpkin
Pork Meal & Butternut Squash
Rabbit Meal & Pumpkin
Squid & Chickpeas