Purina Equine Senior Horse Feed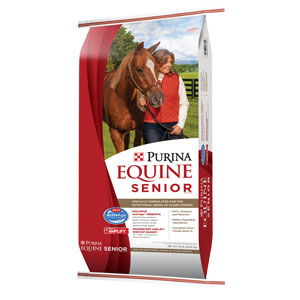 Today's horses are living longer lives, and the lifestyle of an active, aging horse requires special care and proper nutrition to maintain optimum health. Purina Equine Senior Active horse feed is a nutritionally balanced and specifically formulated for the active, aging horse whose caring owner wants their companion to feel as healthy as it looks.
Equine Senior Active now contains ActivAge™ prebiotic.  New ActivAge™ prebiotic has been scientifically proven to promote optimal immune function in senior horses.
ActivAge™ prebiotic is a proprietary feed additive that contains beneficial metabolites, including vitamins, minerals, amino acids and antioxidants. These metabolites work together to support the growth of beneficial microorganisms in the horse's gut and to promote optimal immune function.
What are the benefits of ActivAge™ prebiotic?
Protects Against Inflammation
Strengthens Immune Function
Boosts Response to Vaccination
Equine Senior Active now includes shredded beat pulp, a 10% fat level, plus the  ActivAge™ prebiotic.
100% Vitamins and Minerals*
Digestible Fibers Including Loose Beet Pulp
Concentrate Feed – Feed with Hay
Purina Equine Senior Active horse feed is designed for moderately active senior horses, providing high fat and fiber with a controlled starch and sugar formula that delivers all the vitamins and minerals needed to stay fit and active. With the best nutrition for the active senior horse, Purina Equine Senior Active horse feed helps maintain proper body condition to ensure you and your companion can enjoy more quality years together.
Feed form: Concentrated pellets and extruded nuggets
Recommended for: Active senior horses that are easy to average keepers, have good dentition and have no major issues chewing or digesting hay or pasture forage.
Features
| | |
| --- | --- |
| FEATURES | BENEFITS |
| #1 Veterinarian Recommended Senior Horse Feed | 4 out of 5 equine veterinarians recommend Purina's Equine Senior® horse feed to their clients with senior horses. |
| Easy Soak™ Pellet Technology | Creates mash in 5 minutes with warm water, * making it easy to chew and swallow for horses with dental problems or no teeth. *Add 5 quarts warm watter (100° F) to every 6 pounds of feed. Soaking time will vary depending on water temperature. |
| Easy to Digest | Special blend of fiber sources, including beet pulp and top quality hay, helps maintain the senior horse's body condition and aid in normal digestive function. |
| Complete Feed | Built-in quality hay helps senior horses get the fiber they need when dental problems or no teeth prevent them from eating forage. |
| Combined Energy Sources | More calories from fat, less from sugar provides a diet lower in nonstructural carbohydrates that may help aging horses with difficulty managing blood sugar levels. |
| Vitamins and Minerals | Provides 100% of the required nutrients for horses when fed as directed* so no additional supplements are necessary. *Based on "Nutrient Requirements of Horses Sixth Revised Edition – 2007" published by the National Research Council. |
| Purina® Amplify®Nugget | The Purina® Amplify® Nugget is a patented, high-fat, extruded particle that contains a proprietary blend of vegetable oils, flaxseed and rice bran for an optimal fatty acid profile that helps support strong immune function. |
| Added Antioxidants | Vitamin C and natural source vitamin E help support a healthy immune system. |
| Improved Palatability | Instead of using straight cane molasses which is high in sugar, Purina®Equine Senior® horse feed contains a unique blend of molasses and soy oil for a higher-fat molasses that horses love to eat. |
| FeedGuard® Nutrition System | The FeedGuard® Nutrition System is one of the industry's most innovative and exacting quality assurance programs. FeedGuard®Nutrition System can help deliver the trust, quality and performance that horse professionals demand every day. |
Analysis
| | | | |
| --- | --- | --- | --- |
| CRUDE PROTEIN | MIN | 14.00 | % |
| LYSINE | MIN | 0.70 | % |
| FAT | MIN | 5.50 | % |
| FIBER | MAX | 18.00 | % |
| CALCIUM (CA) | MIN | 0.60 | % |
| CALCIUM (CA) | MAX | 0.80 | % |
| PHOSPHORUS |  MIN | 0.40 | % |
| SODIUM (NA) | MIN | 0.10 | % |
| SODIUM (NA) | MAX | 0.60 | % |
| COPPER (CU) |  MIN | 55 | PPM |
| SELENIUM (SE) | MIN | 0.30 | PPM |
| ZINC (ZN) | MIN | 220 | PPM |
| VITAMIN A | MIN | 3,500 | IU/LB |
| VITAMIN E | MIN | 140 | IU/LB |
Directions
- WEIGHT OF HORSE IN POUNDS -
LIFESTYLE
600 lbs
800 lbs
1,000 lbs
1,200 lbs
1,400 lbs
Equine Senior® horse feed (lbs/day)
Maintenance
8.00
10.75
13.50
16.25
18.75
Light Work
9.00
11.75
14.75
17.75
20.75
Moderate Work
10.25
14.00
17.25
20.75
24.25
Lactating Broodmare
14.00
18.75
23.50
28.25
33.00
Breeding Stallions
9.75
13.00
16.25
19.50
22.50
Feeding recommendations are based on average daily requirements for horses of different body weights. Actual feeding rates required to adequately maintain good condition of individual horses will be affected by individual metabolism and progression rate of aging processes. Therefore, feeding rates may need to be gradually adjusted in some horses according to body condition. Aging horses unable to maintain adequate body condition when being fed the recommended amount of Equine Senior
® 
horse feed should be examined by a veterinarian to determine the presence of potential health issues. Do not feed more than 0.8 lbs per 100 lbs of body weight in one meal. Equine Senior
®
 can be blended with other feeds or oats for a short time while transitioning your horse to Equine Senior
®
, but for the long term, Equine Senior should not be mixed with oats or other grains because these grains will dilute the nutritional balance of Equine Senior
®
 and are more difficult for the aging horse to chew and digest. Do not feed free choice.
Important Considerations:
Do not feed free-choice.
Feed at regular times (at least twice daily). When feeding rates exceed 1% of body weight, three daily feedings are preferred.
Any feed changes should be made gradually over a period of 7 to 10 days.
Changes in the rate of feeding should not exceed one pound per day for each horse.
Have plenty of fresh, clean water available at all times.
Prevent the rapid eating by the horse of any feed stuffs.
Store feed in a dry, well-ventilated area protected from rodents and insects.
Do not feed moldy or insect-infested feed to animals as it may cause illness or death.
This product to be fed to the animal species as directed on the label.
In addition to nutritional care and consultation, be sure to make regular veterinary checkups and farrier appointments part of your horse wellness program.