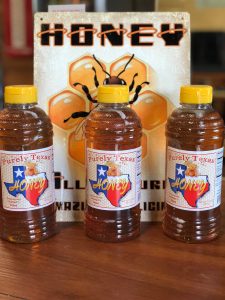 Did you know that Argyle Feed Store offers raw, organic honey that is sourced locally from Denton County? Argyle Feed store now carry Purely Texas Honey produced right here in Sanger, Texas.
Raw honey has many benefits and many believe that it relieves allergy symptoms. For those who suffer during allergy season in the spring and summer months, having raw honey readily available is a great benefit. It is believed that buying local honey may relieve symptoms due to the local honey bees that the honey came from. So stock up on this Texas favorite honey and reap the rewards of the nutritional and healing benefits it provides.
Purely Texas Honey now available at Argyle Feed Store!
Tags: honey, organic honey, Purely Texas Honey, raw honey