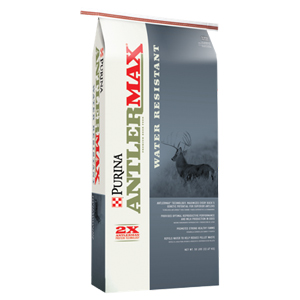 Purina AntlerMax Water Shield Deer 20 is a 20%-protein, water-resistant pelleted ration designed to enhance the deer's natural forage diet. The high protein content supports top performance with AntlerMax® Technology to support optimal antler growth in bucks, reproductive success and abundant milk production in does, and supports optimum growth and healthy development in fawns. Specifically formulated for what free-range deer require to support overall health, reproductive performance, and antler growth. The Water Shield® technology is a water resistance process that helps repel moisture and designed to result in reduced waste and labor associated with water damage.
Features & Benefits
AntlerMax® pellets
For the development of optimal antler size and mass. Provides for a high intake of high-quality proteins including AntlerMax® By-Pass Protein technology that deliver high concentrations of amino acids needed by the growing antler. Helps develop deer with exceptional body size. High-quality protein helps maintain muscle to support body growth.
Designed to reduce pellet waste and clabor associated with wet conditions
Water-resistance process that repels moisture. The result is increased savings because of the dramatic reduction in pellet waste.
High palatability
Enhanced with flavoring to attract deer to the feed so they receive the benefit of a balanced diet
Optimum levels of vitamins and minerals
Helps support antler growth, density and strength. Optimum levels of calcium, phosphorous, magnesium and vitamin D. Contains proprietary AntlerMax® Mineral Technology including organic trace minerals for replenishing depleted bone material stores used during antler mineralization.

Proprietary AntlerMax® mineral technology
A power-packed nutritional package with ideal amounts and ratios of vitamins and minerals for superior antler density and strength, optimum reproductive performance and healthy fawns
Supplements poor or sparse forage
So deer can maintain vigor during periods of environmental nutritional stress
Water Shield® technology
Protected by exclusive Water Shield® Technology which makes the pellet resistant to moisture, reducing waste and labor associated with water damage
Source: Purina Mills
Tags: Deer, deer feed, PURINA, Purina AntlerMax Water Shield Deer 20