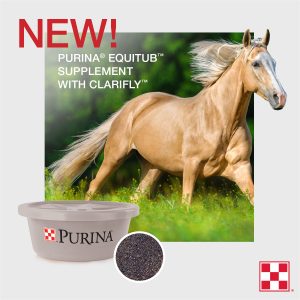 Calling all horse owners, check out a new product arriving in June 2020, the Purina EquiTub supplement with ClariFly! Say goodbye to flies, and hello to gastric health + optimal body condition.
This is a premium self-fed supplement that provides gastric support, fly control, and consistent nutrition in an easy-to-feed and convenient form. Purina's innovative horse tub combines 3 supplements into a single product:
ClariFly® larvicide is expelled in manure, where it helps control house and stable fly populations by interrupting their life cycle.
Outlast® gastric support supplement promotes gastric health and proper pH.
Amplify® high-fat nugget to support endurance and bloom.
Find out more about this product here Purina EquiTub Supplement with ClariFly.
Shop local, shop Argyle Feed store for Purina Horse Feed & Supplements and all your horse supplies. #FeedGreatness